Soup:
Stuffed Pepper
Lunch:
Chicken Salad Melt with Fries 9.99
Italian Grilled Cheese with Cup of Stuffed Pepper 8.99
Dessert:
Cherry Pie, No-Bake cookies, Cinnamon rolls
Wine:
Firelands Winery Pinot Grigio is our Local Feature! Pairs well with our Lemon Wine Haddock
Great Lakes Oktoberfest helps us fall into the cooler weather
Dinner:
Seafood Newburg with Green Beans 16.99
Chicken Marsala with Garlic mashed potatoes and Salad 14.99
*Subject to availability to promote freshness.
Berardi's Restaurant in Huron was opened in 1979 by Albert and Roseanne Berardi and it is still family owned to this day.
---
Focusing on serving fresh home cooked food, Berardi's in Huron is currently in the 4th generation. Many of our recipes have been in the family for over three decades and nearly everything we serve is made from scratch. We take pride in creating fresh and exquisite dishes from responsibly sourced ingredients. For three decades we have carried on the family legacy of delivering family friendly service, high quality ingredients, and fresh homemade food. Stop by and enjoy our family recipes and award winning desserts today! Read More >>
Berardi's Catering
---
We are available for full service custom catering for your next home gathering, office meeting, or event. Pickup or Delivery available. (Free delivery in Huron)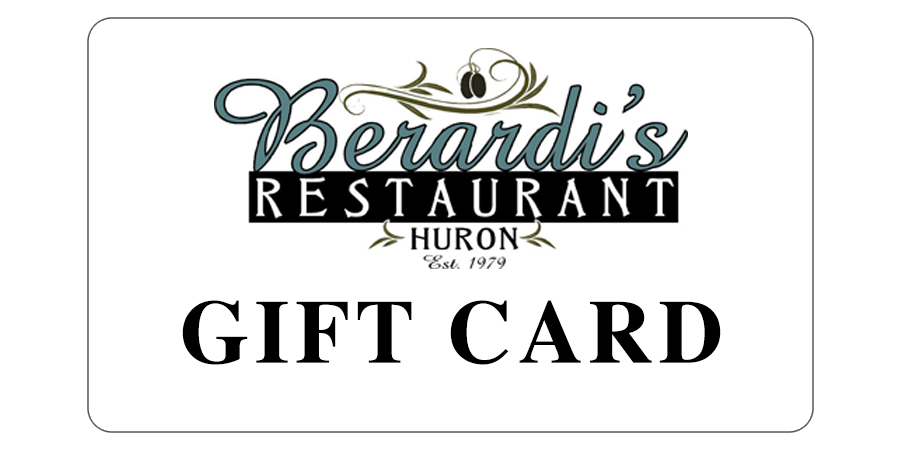 Purchase New Gift Card Here
Check Gift Card Balance Here
"People come for the food, but come back for the service."